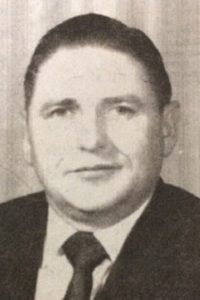 IRENE 'CARDINALS' – 1946
     John Diefendorf's stellar reputation for basketball excellence was initially formed at Irene High School and then magnified at the University of South Dakota. The 5-foot-11 guard/forward was so widely respected that he was named the state's greatest player for the first half of the 20th century.
     Diefendorf was an all-around athlete while starring for the Cardinals. He was a four-year starter in basketball and football while also competing in track and playing baseball. Irene claimed Tri-Valley Conference basketball championships in the 1944 and 1946 seasons. Diefendorf was chosen as the captain of the all-conference team as a senior.
     Four years later Diefendorf ended his career at USD as the most accomplished player in the history of the Coyotes. At the time of his graduation he held seven school records and five North Central Conference records. Diefendorf was honored on the all-NCC team as a sophomore, junior and senior. Twice he was the league scoring champion. He producing 17.0 points per game to win the title in 1949 and then boosted his average to 22.6 to repeat as a senior in 1950.
     In an historic game during his sophomore season, Diefendorf and his Coyote teammates claimed a stunning victory that shocked the entire college basketball world. Bradley University was undefeated with an 11-0 record and was rated No. 1 in the country in NCAA Division I. The major-college Braves were overwhelming favorites as they hosted USD. But the Coyotes ventured into the Peoria (Ill.) Armory and prevailed 54-51 to give longtime coach Carl "Rube" Hoy his greatest victory in the 24 years he guided USD. Bradley wound up with a 28-3 record that season with its only other losses coming against DePaul and West Virginia.
     Diefendorf's single-game high was 39 points. He accomplished that against Augustana during his senior season. That total established USD and NCC records. Other conference records set by Diefendorf were for points in a season (271), field goals in a season (103), field goals in a game (18) and scoring average in a season (22.6). After finishing his USD career, during which he was captain of the Coyotes for two seasons, Diefendorf received an offer from the Minneapolis Lakers of the NBA to participate in a tryout. Instead he entered the U.S. Army and served during the Korean conflict.
     A Coyote Sports Hall of Fame member, Diefendorf was a strong advocate of the DakotaDome and played an important role in making the facility a reality in Vermillion. He also was inducted into the South Dakota Sports Hall of Fame. Diefendorf had a successful career in banking. His wife was Mary Jane. Children are Tom, Jan, Beth and Susan. Diefendorf lived at McCook Lake at the time of his death in 2002.