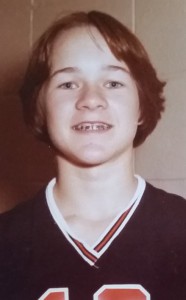 JEFFERSON 'HAWKETTES' – 1981
        Jefferson held a firm grip on Class B girls basketball supremacy from 1978 through 1980 and Katie Dailey was at the point of the Hawkettes' attack.
        Dailey was a tireless 5-foot-6 guard whose superlative floor play for Coach Fred Tibbetts triggered Jefferson to three consecutive state championships. She was all-state as a sophomore, junior and senior.
        The Hawkettes defeated Highmore 54-19 in the title game in 1978 when Dailey was a sophomore. The next year Jefferson outlasted Clear Lake 57-56 in overtime in a thrilling finals. Dailey then led Jefferson past Highmore 36-10 in the championship game when she was a senior.
        Dailey was a capable scorer, averaging 12.3 points per game as a senior, but her greatest asset was an ability to control games with her passing and defensive tenacity. Dailey's example helped steer the Hawkettes to an incredible 76-2 record during her final three seasons, including a 67-game win streak. As a senior she totaled 125 assists and 125 steals to push her career totals to 317 assists and 383 steals.
       She also competed in cross country, track and volleyball for the Hawkettes. During her time at Jefferson she earned 15 varsity letters.
        More championships followed for Dailey as she moved on to excel at the University of South Dakota. Playing for Coach Chad Lavin she helped the Coyotes earn North Central Conference titles in 1983, 1984 and 1985. In that three-year run the Coyotes constructed an overall record of 64-22.
       All-NCC all three seasons, Dailey set several USD records. Among them were assists in a game (16), season (212) and career (665) as well as steals in a season (103) and career (304). She also played softball four seasons at USD and is a member of the Coyote Sports Hall of Fame.
        Dailey lives in Canistota. She is an assistant store leader at Scheels in Sioux Falls.