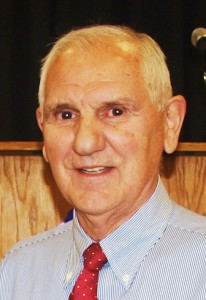 DOLAND 'WHEELERS' – 1952
Values learned on basketball courts in South Dakota helped Chris eventually become one of the most respected leaders in the United States Air Force. Doland competed against mostly larger schools in the strong Northeast Conference. The Wheelers revolved around Chris, a 6-foot-3 forward who was a four-year starter. He averaged 25 points per game as a junior and senior, a two season span in which Doland lost only three games under the coaching of Bruce Canatsy.
Chris, who also excelled in track and football for the Wheelers, began his college career at Kansas State. He chose to transfer to Kansas University, however, to play for legendary coach Phog Allen. The Jayhawks went 16-5 in Chris' first season in 1954. During the following year, when Chris was a junior, Kansas opened Allen Fieldhouse, destined to become one of the country's most historic arenas. Chris was sidelined during his senior season as a result of a fractured knee cap which required surgery. So
he was asked by Allen, who went 590-219 in 39 years guiding the Jayhawks, to serve as coach of the freshman team during an era when freshman were not eligible for varsity competition.
Basketball immortal Wilt Chamberlain was the star of that Kansas freshman team and he and Chris began a close friendship that lasted until Chamberlain's death on Oct. 12, 1999.
Chris graduated from Kansas in 1956. He was commissioned in the Air Force and completed training as a combat pilot. Chris served for 32 years until his retirement, attaining the rank of Major General. Among his many honors was the "Order of the Sword", the highest award bestowed upon a senior officer by the enlisted corps.
Chris and his wife Sue live in San Antonio, Texas. They have a daughter Deborah. The South Dakota High School Basketball Hall of Fame is proud to induct Chris as a member of its Class of 2013.