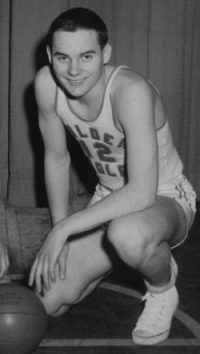 ABERDEEN CENTRAL 'GOLDEN EAGLES' – 1949
Bob made an indelible impression on South Dakota basketball before moving on to perform admirably for the University of Colorado.
As a 6-foot-3 center, he was a three-year starter for Central, where he played for Reedy Fossum and Milo Jackson. The Golden Eagles earned the consolation title in the State Class A Tournament when Bob was a junior in 1948. A season later Central won the 1949 state championship captained by Bob and Forrest Zimmerman, who went on to play at South Dakota State University. In the finals the Golden Eagles defeated Brookings 41-40 in a rousing title game.
Bob set state tournament records for points in a game and points in a tourney, averaging 22 points a game in tournament play. His all-around athletic ability allowed him to earn nine varsity letters at Central, three each in basketball, football and track. Bob, whose dad Roy was a coach, also was a standout American Legion baseball player.
During his career at Colorado from 1950-53, Bob played guard. An assistant coach for the Buffaloes was Russell "Sox" Walseth, who was born in Aberdeen and graduated from Pierre. Walseth became head coach at Colorado in 1957 and in his 20 years heading the program he guided the Buffaloes to three Big 8 Conference titles.
Bob was Colorado's captain as a senior in 1953 when the Buffaloes stunned the college basketball world by achieving a major upset over Kansas. Colorado downed the Jayhawks 72-68. At the time Kansas was rated No. 3 in the country.
Bob lives in Aberdeen. He and his wife Jackie have five children: Robert Jr., Bill, Becky, Dick and Jim. The South Dakota High School Basketball Hall of Fame is proud to induct Bob as a member of its Class of 2012.