Scoreboard was symbol of basketball at Wallace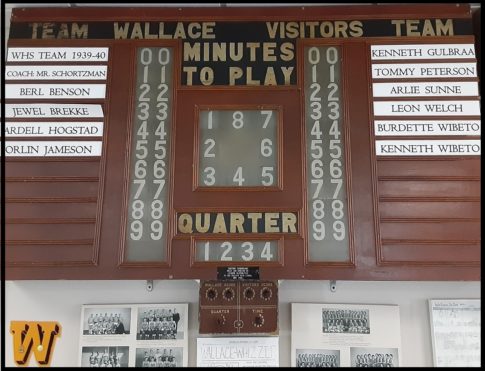 The scoreboard shown at right was state of the art when it was originally created. The inscription on the plaque beneath the quarter designation reads: 'Electric Scoreboard Built And Donated by Selmer Hjermstad To The Wallace High School November 1939'
Wallace basketball fans welcomed the new addition to the town's gymnasium. It allowed the Bulldog faithful to follow a game's progress by viewing the information clearly displayed on the homemade scoreboard.
As the years passed, and newer more modern scoreboards started to appear with regularity in the gyms of schools throughout South Dakota, the old scoreboard at Wallace remained as a reminder of a more basic era …. a time when the work of an industrious local craftsman could produce a product such as this scoreboard that an entire town could enjoy with pride.
The Bulldogs continued to use the scoreboard for 23 years until Wallace High School closed its doors in 1962. Wallace is about 25 miles northwest of Watertown. This South Dakota High School Basketball Hall of Fame photo was taken recently at the town's community center, where the scoreboard now adorns a wall along with other WHS memorabilia.