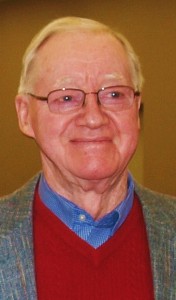 HAYTI 'REDBIRDS' 1954
Since his early childhood, basketball has been part of Harley Petersen's life. In the seventh grade coach Ford Kiner asked him to play B-team basketball. In the eighth grade Harley would join the varsity team. As a freshmen in 1951, Harley experienced the Hayti Redbirds loss to Flandreau in the Region 3 finals. In 1952-53 and 1954, Jim Marking successfully coached the Hayti Redbirds to the state finals. Harley earned All-State honors in all three tournaments. In 1952, Harley was All-State with his older brother James Peterson along with the Hammerich brothers, Leo and Harvey of the Ipswich team (who defeated Hayti in the finals). In 1953, the undefeated Hayti Redbirds, fell to Ravinia in the first round of the state tournament and placed sixth that year.
In 1954, the Hayti Redbirds won all the marbles, winning the South Dakota State B tourney. Harley Petersen, Garney Henley, and Harvey Schaefer were the three Redbirds chosen to the All-Tournament team. Harley was designated as captain in 1954. Harley, Garney and Harvey were one of the best fast break combination ever in the state of South Dakota according to Coach Jim Marking. Harvey was quick, a good ball handler and had a nice shot. South Dakota Sportswriters would name the 1954 Redbirds as the team of the decades.
Harley went on to play with the Jackrabbits and was one of their standouts, in 1958 Harley was named the Captain of the team and earned NCC honorable mention. After graduation Harley would return and coach basketball at Hayti and Watertown, SD. In 1994 he would retire after teaching and coaching for some 29 years. Harley and his teammates had impressive years at Hayti. This trio may all someday be in the South Dakota Basketball Hall of Fame. This year we will induct Harley Petersen as our choice to be a member of the South Dakota High School Basketball Hall of Fame.