MILLER 'RUSTLERS' – 1972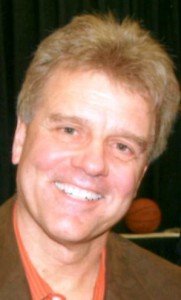 Rick was born on August 26,1953. The third of five children, to Alvin and Eva Nissen. Rick developed an early interest in all sports while watching his older brother Al excel in athletics. Rick was an outstanding athlete at Miller High School, but his first love was the game of basketball. The Rustlers Basketball team had outstanding records in 1970-1971, only losing to Brookings and Madison in the Sectional finals.
The Rustlers basketball season of 1972 began with an exciting come back win at Britton, dealing the eventual 1972 State B Champions thier only loss that season. The wins kept rolling that year until the Rustlers were finally able to obtain their life long dream and play in the State "A" Tourney. The Rustlers were able to beat the Mitchell Kernels and the Huron Tigers in their Section. Remember, the Rustlers won the State (B) Tourney in 1949 with an undefeated season. The Miller Rustlers were the smallest school in the 1972 state tourney. They had decisive wins over Sioux Falls Washington, Rapid City Stevens and Yankton to become the State A Champions, finishing 24-0 for the season. In 1988, the sportswriters and coaches named the 1972 Rustler Basketball team the best ever to play at that time.
Rick was a three-year starting guard and two year captain for the Miller Rustlers, was 1st Team All-Tourney, 1st Team All-State and MVP of the 1972 Tourney. Rick was a great shooter and hustler on defense. He would later start at the University of South Dakota. Rick, along with his cousin and teammate Kim Templeton, would team up to be a mighty force for the Miller Rustlers in the early 1970's. Thus, we honor Rick Nissen by selecting him to the second class of our South Dakota High School Basketball Hall of Fame. Congratulations, Rick!