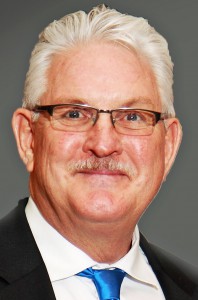 STICKNEY 'RAIDERS' – 1971
        Chris Miller approached the task of rebounding with a fierce determination that made him elite. No college player in the history of South Dakota basketball has claimed more rebounds than the 1,363 pulled down by Miller during his career at Dakota Wesleyan University.
        Miller's ability first became evident at Stickney High School where he was a four-year starter. He also was an all-state end for the Raiders in football and a state champion in the discus and high jump.
        As a junior in 1970, Miller led Stickney (24-5) to its first-ever Class B state tournament. The Raiders got past Gettysburg 55-54 in the first round and West Central 66-55 in the semifinals. De Smet topped Stickney 76-39 in the title game. Miller, a strong and agile 6-foot-5 center, was all-state two years. He averaged 25 points and 23 rebounds per game as a senior and totaled more than 1,800 career points. He played for Dan Moran, whose 16-year record with the Raiders was 289-89. Moran had a career record of 434-186 during 27 seasons at six schools.
        Making a smooth transition to college, Miller started all four years and helped Dakota Wesleyan win a pair of South Dakota Intercollegiate Conference titles. The Tigers of Coach Gordon Fosness were outright champions in 1974, going 19-6 overall, and they shared a tri-championship with Huron University and USD-Springfield in 1975.
        Miller was chosen all-SDIC three times and was the conference rebounding leader as a junior and senior. In his final season he averaged 23 points per game. He scored 1,863 points as a Tiger with a career average of 19.6 per game. His single-game high was 54 points and he still holds the school single-game rebounding record of 32.
        Miller is a member of the DWU Hall of Fame. He is a professor in education pharmacy at the University of Kentucky. He and his wife Janell live in Louisville. Children are Justin, Janna and Christina.