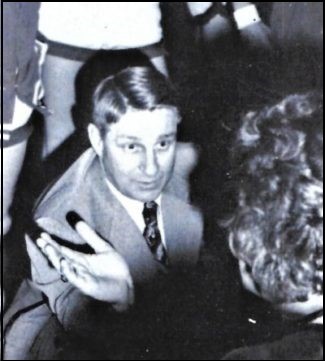 Gordon Fosness graduated from Presho High School in 1953 and went on to make an indelible mark on South Dakota basketball as a player and coach, then later as an advocate. He was a man of faith who served as a spiritual advisor to many. Fosness died Dec. 15, 2020, in Sioux Falls. He was 85.
     At the time of his Dakota Wesleyan University graduation, Fosness was the Tigers' career scoring leader. He totaled 1,805 points with a career average of 23.4 points per game. Fosness was chosen all-South Dakota Intercollegiate Conference during each of his four seasons. He was then selected by the Minneapolis Lakers in the 1957 NBA Draft.
     Fosness (shown addressing his players during a timeout in the DWU photo at left) coached at Cavour and Gregory before returning to Wesleyan in 1961. He guided the Tigers for 22 seasons before retiring in 1983. Fosness' teams won 10 SDIC championships. His career record, in an era when teams played far fewer games than they do today, was 351-195.
     After leaving coaching Fosness accepted the position of Director of Development at Wesleyan. Then from 1988-2000 he was the state director of the Fellowship of Christian Athletes. Fosness was a member of several halls of fame, including the NAIA Hall of Fame. He was inducted into the South Dakota High School Basketball Hall of Fame in 2011 and has served on the organization's board of directors.