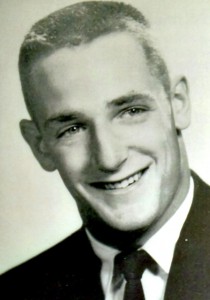 WASHINGTON 'WARRIORS' – 1957
        In the Class A state tournament in 1955, Fred Hecker scored 20 points in the championship game to lead Sioux Falls Washington High School past Aberdeen 67-50. The talented sophomore was just getting started.
        Hecker and the Warriors would return to the finals of the state tourney the next two seasons. Washington defeated Rapid City 55-53 to claim the championship again under Coach Wally Diehl in 1956. The Warriors finished with a 21-4 record. Then in 1957, during Hecker's senior season, the Warriors fell to Belle Fourche 53-40 in the title game and wound up 21-3.
     Hecker was chosen to the all-tournament team all three years. He was named to the all-state team his final two seasons. Washington was also a regional football power at the time. Hecker was a three-year performer at 6-foot-1 and 180 pounds. During that span the Warriors lost only two games.
     One of the state's all-time greatest all-around athletes, Hecker also was a dynamic performer in track, helping Washington to three state championships. He set a state record in the shot put when he threw over 52 feet. And the Washington record-setting mile relay team of which Hecker was a member posted a best time of 3:29.1. Hecker also won a state golf championship as a Warrior when he shot a 141 with rounds of 68 and 73. He earned 11 varsity letters at Washington including three each in basketball, football and track plus two in golf.
     Ara Parseghian recruited Hecker to play football at Northwestern University of the Big Ten Conference. Hecker later transferred to Augustana University to finish his career as a fullback and defensive end for Coach Bob Burns. When his college career ended Hecker entered the U.S. Air Force. After he left the military as a colonel he became a consultant for a technology firm in San Diego. He was inducted into the South Dakota Sports Hall of Fame.
     Hecker and his wife Terry lived in Lakeside, Calif., at the time of Hecker's death in 2006. Children are Mason and Casey.