Major college coaches were prep stars in S.D.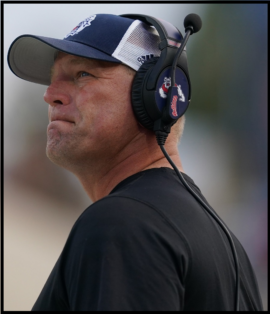 In the 1990s there were two players excelling on high school basketball courts in South Dakota who were destined to become coaches and fulfill major roles in the realm of big-time collegiate football. Kalen DeBoer is now head coach at the University of Washington and Josh Heupel at the University of Tennessee.
     DeBoer was a three-year basketball standout at Milbank. As an all-state junior he scored 17 points per game and led the Bulldogs to a 15-9 record and an appearance in the State Class A Tournament. Then during his 1993 senior season DeBoer paced Milbank to a 16-5 record.
     Also a talented football player, DeBoer became a University of Sioux Falls star as a receiver with 234 total receptions for 3,400 yards and 33 touchdowns. His head coaching career includes a 67-3 record at USF with NAIA national titles in 2006, 2008 and 2009. DeBoer was coach at Fresno State (shown at right in an FSU photo), guiding the Bulldogs to a 9-3 record this season, before accepting the position at Washington of the Pac-12 Conference on Nov. 29.
     Heupel was also a three-year prep basketball standout. He helped Aberdeen Central to three consecutive trips to the State Class AA Tournament in 1994, 1995 and 1996. The all-Eastern South Dakota Conference player was instrumental in the Golden Eagles going 18-6 during his junior season and 19-3 with an ESD title when he was a senior in 1996.
     As a senior quarterback Heupel led Oklahoma to a 13-0 record and national title in 2000. In two seasons with the Sooners he threw for 7,456 yards and 53 touchdowns. Heupel finished second in Heisman Trophy voting in 2000 behind Chris Weinke of Florida State. Heupel directs a Tennessee program in the Southeastern Conference that was 7-6 this season. The Volunteers' home field is Neyland Stadium, fifth largest facility in the country with a capacity of 102,455.