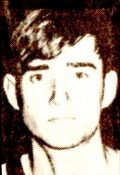 TRIPP 'WILDCATS' – 1967

        In terms of both accuracy and range, South Dakota has rarely produced a shooter the equal of Mike Freier. During three days in March of 1967 the state was captivated by the performance of Tripp's star senior guard at the Sioux Falls Arena.
        The Wildcats defeated Beresford in the first round of the Class B state tournament as Freier notched 32 points. In the semifinal round he netted 36 in a victory against Frederick. Tripp faced Herreid in the championship game and the Wildcats emerged with a 72-46 win behind Freier's 35. In the tourney Freier scored a record 103 points. His marksmanship was stunning. He made 62 percent of his field goal attempts and was on target with 93 percent of his free throws, converting 25 of 27.
        The late Hod Nielsen was a well-known sports journalist who covered South Dakota high school basketball for several decades. He once called the 5-foot-9 Freier the best long-range sniper he had ever seen. "Mike was a great shooter and he always played with intelligence. You couldn't give him the 20-foot shot," said Nielsen. "His record of 103 points was phenomenal. If they'd had the 3-point rule then, he'd have scored at least another 20 in the tournament."
        Tripp went 28-0 under Coach Jim Flevares that season, two years after the Wildcats finished second in the 1965 state tourney when they lost to Alexandria 59-54 in the championship game. The all-state Freier averaged 23 points per game as a senior and shot 60 percent from the field. He also played football for the Wildcats and starred in track as a sprinter where he set a school record in the 100-yard dash.
        Freier began his collegiate career at the University of South Dakota. After transferring to Yankton College he played for Coach Ron Bertsch and twice represented the Greyhounds on the all-Tri-State Conference team. Now retired, Freier had a long career with Hennepin County Social Services. He lives in Bloomington, Minn., and has two daughters.