Hamlin 'Chargers' – 1981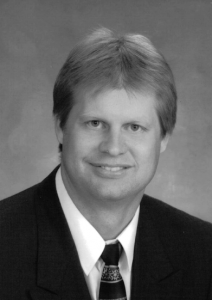 The 6'6" center was all-stater in 1979 (3rd), 1980 (1st) , and 1981 (1st). When Mark played for Hamlin Chargers they went to the State tournament in 1979 and 1980. Mark comes from a tradition of basketball. Mark's dad (Vernon) placed 3rd in the state tournament for Thomas in 1946. Mark's oldest brother (Harley) helped win the state tournament in 1974 for the Hamlin Chargers. Gene played in three state tournaments: 1977, 1978, and 1979 for the Hamlin chargers. Mark played with Gene in 1979, which was a great experience.
Some of Mark's most memorable experiences come from playing basketball up in his dad's hay mound with his brothers. It was fun quality time spent with family, with a high intense competition level. That completion level drove Mark to spend a lot of hours practicing so he could be at least compete with his older brothers.
After High School, Mark attended SDSU and played basketball for the Jackrabbits. As a Jackrabbit he set the all time scoring record, and held it for 28 years until Nate Wolters broke it in 2013. He holds the career all time rebounding record (he broke that as a junior). He continues to hold the career shooting percentage also. Their team made it to the regionals his junior year. In his senior year at State, their team place second in the Country at Division II NCAA tournament, in Springfield, Mass.
Mark was very fortunate to have great support from family and coaches. Dick Goldsmith, his grade school and middle school coach, gave him the belief that he could do anything. Gene Zulk, his college coach for the Jacks, was a great coach and still is a life time friend. It is really tough to achieve great things without people believing in you, and these coaches, and his family were his inspiration.
Mark is married to his high school sweetheart Sarah (30 years this summer 2014). She has been his support throughout most of his life. They have 5 children (Jessica), who just so happened was 1st team all-state and also helped her Watertown Arrows team win the AA girls state tournament in 2007. Dustin, who also became a 1st team all-stater, his Watertown Arrows team placed 3rd his senior year. His other children Casey and Mandy also played for the Watertown Arrows. Their youngest child is an 8th grader, so they have a few years left of
chasing.
Mark's family lives in Watertown, SD and he has worked at Reliabank Dakota for the past 13 years.