Women from S.D. had immediate impact in NAIA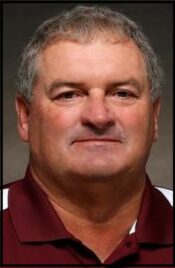 The very first National Association of Intercollegiate Athletics women's national basketball tournament was held in March of 1981. By then the NAIA had already been crowning a men's champion each season since 1937, a span covering 44 years.
        There were around 500 schools in the NAIA in 1981. When the inaugural women's tournament tipped off, the Northern State Wolves were poised to notify the nation about the high quality of players produced by South Dakota high schools.
        Northern was one of eight schools to qualify for the tournament. There were 12 players on the Wolves roster and 11 had been prep standouts in South Dakota. The pre-tourney media guide listed Northern starters as Lori Burkhardt of Yankton, Cathy Coyle of Belle Fourche, Deb Esche of Aberdeen, Janelle Frank of Wolsey and Wendy Swanhorst of Cresbard. Burkhardt was the leading scorer at 17.3 points per game.
        The Wolves were coached by Curt Fredrickson (right) and beat Missouri Western in the quarterfinals at Kemper Arena in Kansas City, Mo. In the semifinal round Texas Southern topped Northern. The Wolves then defeated Azusa Pacific (Calif.) 74-65 in the third-place game to end 28-4.
        By 1992 the NAIA had split from one class into Division I for the larger schools and Division II for the smaller. It reverted back to one class in 2021. During the two-class era Fredrickson and his Wolves emerged as the first dominant team in Division II, winning national titles in 1992 and 1994. Fredrickson was an all-state basketball and football player at Aberdeen Central. A graduate of Northern, he coached the Wolves for 39 seasons with an overall record of 846-306.