S.D. Basketball loses friend with death of Tobin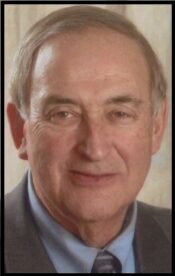 A steadfast friend of South Dakota basketball died on March 31. Leon Tobin of Aberdeen was 87. Tobin graduated from Waubay High School in 1953. He played varsity basketball four years for the Dragons. With bachelor's and master's degrees earned from Northern State University he dedicated 47 years of service to education.
        During his career Tobin spent time as a teacher, principal, superintendent and special education director. He was the longtime superintendent at Warner.
        Tobin officiated nearly 1,700 high school basketball games, including 23 state tournaments during the two-class era in South Dakota. He also worked many college games in the more than 30 years that he was active as an official.
        During the important early formative years of the South Dakota High School Basketball Hall of Fame, Tobin was a member of the organization's board of directors. He and his wife Virginia made the initial financial commitment several years ago that was instrumental in helping to establish the Hall of Fame's endowment fund.
        That endowment has allowed the Hall of Fame to implement a strategic plan that will enable an adequate level of financial health for the organization as it moves forward. The goal is to ensure that the Hall of Fame has the necessary resources well into the future to fulfill its mission of honoring and preserving the basketball history of South Dakota.