Brookings '85: Team of Excellence for 2022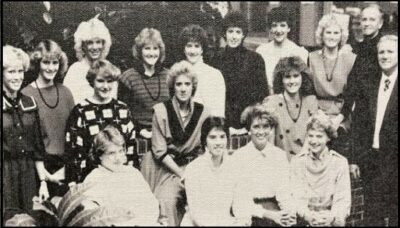 The impression made by the Brookings High School girls basketball team in 1985 extended far beyond the borders of South Dakota. In its ratings USA Today noted the talent of the Bobcats by ranking them at No. 3 nationally.
Brookings won the Class AA state championship. The Bobcats defeated Yankton 45-29 in the title game. That capped a 23-0 season and extended the Brookings undefeated streak to 48 games spanning over three years.
In recognition of their achievements the 1985 Bobcats, who were guided by USA Today national coach of the year Jim Holwerda, are being recognized by the South Dakota High School Basketball Hall of Fame as its Team of Excellence for 2022. They will be honored during the 12th annual SDBBHOF induction banquet which will be held Aug. 27 at the Ramkota Hotel in northwest Sioux Falls.
Brookings was paced by a trio of first team all-state seniors: Paula Kenefick, Amy Mickelson and Renae Sallquist. The 1985 Bobcats were, from left, front, manager Maree Larson, Kenefick, Mickelson, Jennifer Gee. Middle, manager Jacque Lenz, Valerie Krier, Stacey Koenders, Holwerda. Back, Lisa Rollag, Laura Martin, Sallquist, Beth Lingren, Barb Johnson, Vanessa Larson, Kathy McDonald, Stacey Grorud and assistant coach Paul Johnson. (Submitted Photo)