The Hall of Fame Class of 2023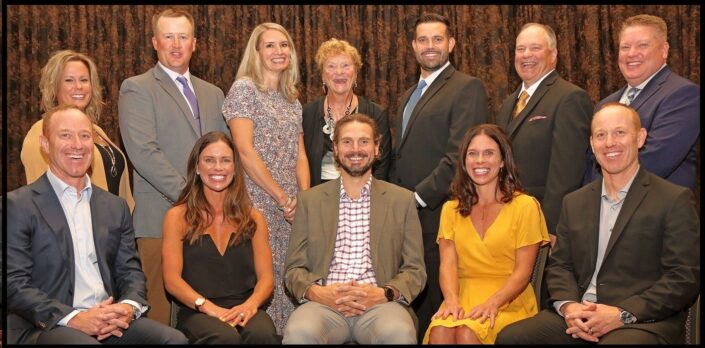 The South Dakota High School Basketball Hall of Fame celebrated its Class of 2023 during the 13th annual induction banquet Saturday afternoon at the Ramkota Hotel in Sioux Falls. Thirteen former standouts were honored and they bring total membership in the Hall of Fame to 198 of the greatest prep players ever to perform in South Dakota.
        Pictured above at the banquet, from left, front row, are Chad Boekelheide, Jeana (Hoffman) Krome, Paige Paulsen, Jenna (Hoffman) Kubesh and Scott Boekelheide. Back row, Jordan (Stapp) Proefrock, Louie Krogman, Brenda (Davis) Comstock, Dodie Bemis representing the late Harry Marske, Spencer Paulsen representing the late Derek Paulsen, Dan Freidel and Eric Lappe. Also inducted was the late Arnold Johnson. (John Simko Photo)
        Plaques commemorating members of the Class of 2023 will be displayed in the Hall of Fame area which is located on the main floor of the Sanford Pentagon. Bios profiling all Hall of Fame members can be found on this website.
        Members of the selection committee will meet soon to begin the important process of evaluating the nominations of potential inductees. Those who are selected for induction in the Class of 2024 will be announced in May. To see a list of the selection criteria, and to download an official nomination form, click on Nomination Form on this website.