Fall newsletter depicts school's 68-year wait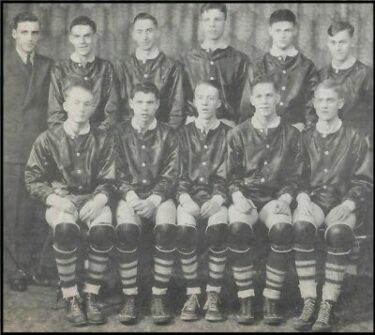 The wait, during the old two-class system of basketball, could be so long. That helped to make qualifying for the state tournament a special experience for communities across South Dakota.
In 1939 the Langford team shown at right battled its way to the final eight in Class B. It would take another 68 years before the Lions were able to advance to their next state tournament.
Read about that nearly seven-decade process in the 2023 Fall Newsletter which was published by the South Dakota High School Basketball Hall of Fame and mailed to its followers on Nov. 2. It is the 19th edition of the free biannual newsletter.
Another story examines the skill of passing. What qualities make a uniquely talented distributer of the basketball? Serving as a sidebar to that story are comments from Hall of Fame readers who were asked to tell us about the best prep passers who they have seen.
And learn in the newsletter about the heroism of an exceptional young man, an all-around athlete who helped his high school to a state basketball title in South Dakota. He went off to war as a soldier in the U.S. Army where he was commended for his bravery in combat and for his determination to survive and to escape from an enemy prison camp.