Return to the 1950's with our spring newsletter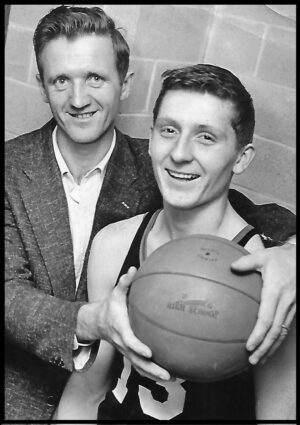 During stages of the two-class era of South Dakota basketball there were between 250 and 300 schools residing in Class B. All had the same goal of being one of the eight teams still standing after the region tournaments were completed. It was a challenge that was especially daunting for the smallest schools in the state.
        Legendary coach Q.C. Miles and all-stater LaMoine Torgerson (right) represented a high school in 1958 that had only 39 total students. There were just 13 boys in the top three grades. So when Forestburg overcame the long odds and qualified for the state tournament for the first time in school history it gave the entire town, with a population of 124, reason to celebrate.
        Read about the excitement generated by a first-ever trip to the "B" in the 2023 Spring Newsletter which was mailed on May 3 by the South Dakota High School Basketball Hall of Fame. It is the 18th edition of our biannual free newsletter.
        Another story relives one of the most notable games in girls basketball history in the state. It matched two elite powers in an unforgettable 1980 showdown that brought increased attention and admiration to the girls sport. Also in the newsletter is a feature story about a major upset in the northeast that shocked South Dakota basketball fans from border to border in 1949.