Class of 2023 features 13 of state's former greats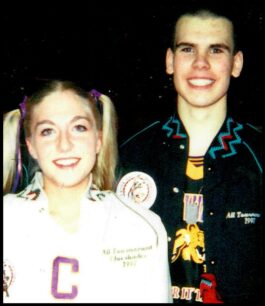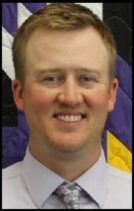 Thirteen former players who all had superlative careers in the state will be inducted into the South Dakota High School Basketball Hall of Fame during the 13th annual banquet to be held on the afternoon of Aug. 26 at the Ramkota Hotel in Sioux Falls.
South Dakota's career scoring leader, Louie Krogman (left) of White River, and three pairs of siblings are among the standouts who comprise the Class of 2023. Chad and Scott Boekelheide excelled while at Northwestern, Jeana (Hoffman) Krome and Jenna (Hoffman) Kubesh were stalwarts for Mitchell, and Paige and the late Derek Paulsen starred at Custer.
Derek Paulsen and his girlfriend, Custer cheerleader Eva Wahlstrom, are in the photo at right which was taken at the Rushmore Plaza Civic Center in Rapid City. The Wildcats had just won the 1997 Lakota Nation Invitational and Derek was named tourney MVP. Derek and Eva lost their lives in a tragic car accident on July 30, 1999.
The Hall of Fame will recognize Miller of 1972 as a Team of Excellence. The undefeated Rustlers will be honored during the banquet. Miller won the Class A state championship under Coach Bob Dockter and achieved a 24-0 record.
Ticket and banquet information will be announced soon on this website. Following is a look at the Class of 2023:
CHAD BOEKELHEIDE, Northville (Northwestern 1991): The Wildcats won Class B state titles in 1989 and 1991 with the Boekelheide twins manning the backcourt. Chad averaged 27 points per game as a senior and had a career total of 1,633. The Boekelheides played at Northern State on teams that compiled a 106-28 overall record from 1992-95.
SCOTT BOEKELHEIDE, Northville (Northwestern 1991): A 25-0 season in 1991 settled Northwestern's four-year record at 93-10. Scott averaged 19 points per game as a senior. He had 1,466 career points and a school record 178 assists. The Boekelheides helped Northern take second in the NAIA National Tournament in both 1993 and 1994.
BRENDA (DAVIS) COMSTOCK, Louisville, Colo. (Tri-Valley 2000): During her career Comstock led the Mustangs to a record of 76-18. She averaged 20 points per game as a senior and totaled 1,648 career points. Comstock scored 1,688 points at South Dakota State and helped the Jackrabbits win the NCAA Division II national championship in 2003.
DAN FREIDEL, New London, Minn. (Armour 1980): The Packers won 64 consecutive games, and went 97-3 overall, during Freidel's career. Armour won Class B state titles in 1978 and 1979. Freidel averaged 23 points per game as a senior, shooting 58 percent, and was a lock-down defender. He was a basketball and football standout at Augustana.
ARNOLD JOHNSON (Brookings 1953): The late Johnson was a mainstay on the Brookings team that produced a 21-1 record and won the Class A state championship in 1952. The following season the Bobcats took fifth place. Johnson was chosen to the all-tourney team both years. He competed in basketball and football at South Dakota State.
LOUIE KROGMAN, White River (White River 2008): In amassing 3,521 points, Krogman capped his record-breaking prep career by averaging 33 points per game as a senior. The Tigers won the Class B state title that season. Krogman was Mr. Basketball and Gatorade Player of the Year. He scored 1,644 points at the University of South Dakota.
JEANA (HOFFMAN) KROME, Sioux Falls (Mitchell 2004): Krome played in six Class AA state tournaments with the Kernels, winning the championship in 2003. She was Gatorade Player of the Year in 2004 when she averaged 21 points per game. Krome's career total was 1,565 points. She was an NCAA Division II All-American for USD in 2008.
JENNA (HOFFMAN) KUBESH, Canistota (Mitchell 2004): Gatorade Player of the Year in 2003, Kubesh helped Mitchell win four ESD Conference titles. She averaged 16 points per game as a senior with a career total of 1,497 points. Kubesh and her twin sister Krome led USD to second in the NCAA Division II National Tournament in 2008.
ERIC LAPPE, Spearfish (Harrold 1992): In one of the most memorable state championship games in history, Lappe scored 40 points as the Cardinals rallied late to down Warner 84-79 in 1992. He averaged 29 points per game that season and was chosen co-Mr. Basketball. Lappe had 2,055 career points. He played collegiately at Mount Marty.
HARRY MARSKE (Andover 1955): The late Marske was a dominating force at 6-foot-8 and 230 pounds. He scored 914 points as a senior, averaging 35 per game. His high game was 51. Marske was all-South Dakota Intercollegiate Conference four years at Northern where he totaled 1,676 points. He was selected by Detroit in the NBA draft.
DEREK PAULSEN (Custer 1999): The late Paulsen had completed his junior year at Custer and was being recruited by several Power Five Conference schools when he lost his life at age 17. He led the Wildcats to the Class A state title as a sophomore. Custer then finished third in 1999 when Paulsen was a junior and averaged 18 points and seven assists.
PAIGE PAULSEN, Williamston, Mich. (Custer 2003): After ending his career with 1,790 points, Paulsen was named Mr. Basketball and Gatorade Player of the Year. Custer won the Class A state title when he was a junior. The Wildcats were second in 2003 when Paulsen averaged 25 points per game. He played at Northern Illinois and Wisconsin-Milwaukee.
JORDAN (STAPP) PROEFROCK, Sturgis (Newell 2004): A rare five time Class A all-stater, Proefrock scored 2,815 career points. She netted 24 points per game as an eighth-grader and in the next three season averaged 25, 29 and 29. Then as a senior she scored 30 points per game as Newell went 18-3. Proefrock played at Jacksonville State (Ala.).