Begeman to lead Hall of Fame into future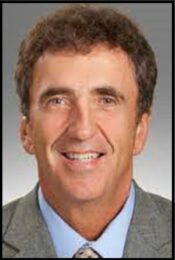 Members of the board of directors of the South Dakota High School Basketball Hall of Fame met at the Sanford Pentagon in Sioux Falls on June 14 and unanimously voted to elect Mike Begeman (right) to serve as the new president of the organization.
        Begeman is a native of Parker and a graduate of Augustana University. He replaces Bob Swanhorst, who had been president of the Hall of Fame since Jan. 24, 2014.
        Swanhorst informed the board of directors several months ago of his intention to step down as president in June. He was asked to remain a member of the board.
        "Bob has provided exemplary leadership during the past 10 years and we are grateful for his many contributions. We are very pleased that he has agreed to remain on our board of directors," says Hall of Fame executive director Dave Wagner.
        "We are extremely confident that under Mike's leadership the Hall of Fame is well positioned to continue its progress and to fulfill its mission far into the future."
        Begeman has been a member of the board of directors for the past nine years. He spent time as the organization's treasurer and then later became vice president. As president Begeman will preside over an evolving board of directors that is responsible for formulating policy and for making decisions that involve the direction of the Hall of Fame.
        Forty-two different people have served on the board at various times. Currently there are 15 members.