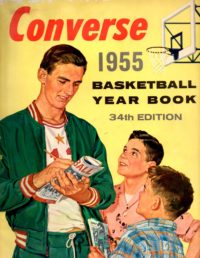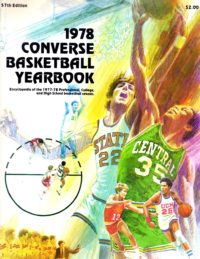 A compilation of vast basketball information, the Converse Basketball Yearbook was published from 1922 through 1983. Each edition provided unmatched analysis of the previous season. No segment of the sport was left out as the yearbook covered basketball on the high school, college, professional and international levels.
     Team pictures of state prep championship teams from across the country were a staple. So were college conference breakdowns and a list of the nation's top collegiate scorers, combining all NCAA divisions with the NAIA.
     In the 1967 edition, for example, future NBA star Earl Monroe of Winston-Salem (N.C.) State University was listed as the top college scorer at 41.5 points per game. Other leaders included Lew Alcindor of UCLA at 29.0 and Elvin Hayes of the University of Houston at 28.4. Also in the rankings were Jack Theeler of Sisseton and the NCAA Division II University of South Dakota at 26.4 and Jim Schlekeway of Britton and NAIA Northern State University at 26.0.
     The Converse Basketball Yearbook collection of the late Argus Leader sports editor and columnist John Egan has been gifted to the South Dakota High School Basketball Hall of Fame. Included are the 24 editions of the yearbook ranging from 1955 through 1978. The Egan collection has been inventoried and is available for inspection along with other historical publications in the Hall of Fame room 2110 located on the second floor of the Sanford Pentagon.