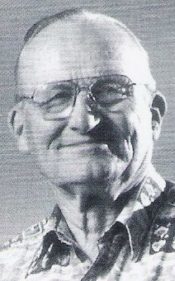 One of South Dakota's most respected and admired basketball trailblazers, Harold Thune, died Aug. 15, 2020. He had reached the age of 100.
     Thune was a 1937 graduate of Murdo High School. As a senior he led the Coyotes to the school's first-ever State Class B Tournament. Murdo took second place. The Coyotes defeated Bridgewater and Redfield before falling in the championship game to Doland 32-27. Thune was named the tournament's Most Outstanding Player.
     A member of the South Dakota High School Basketball Hall of Fame's inaugural Class of 2010, he was also inducted into the South Dakota Sports Hall of Fame.
     During his collegiate career Thune was a standout in the Big Ten Conference at the University of Minnesota. He then served as a U.S. Navy fighter pilot in World War II.
     Thune, the father of U.S. Senator John Thune, spent many years in his hometown of Murdo as a businessman and educator. He recently resided in Central City, Neb.