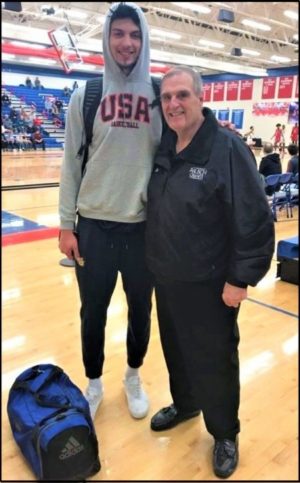 Several players with connections to South Dakota will be in action during the upcoming season for teams residing in the Power Six men's basketball conferences. The six leagues are the Atlantic Coast, Big East, Big Ten, Big 12, Pac-12 and Southeastern.
Among those players is Dawson Garcia of Prior Lake, Minn. He is a 6-foot-11 sophomore forward for the University of North Carolina of the ACC. Garcia, before joining the Tar Heels via transfer, averaged 13 points per game last season for Marquette and was chosen as a member of the Big East all-freshman team.
Garcia's mother, Stacey (Nelson) Garcia, helped Milbank win the Class A state girls championship in 1987. Garcia is shown with Dave Wagner, executive director of the South Dakota High School Basketball Hall of Fame, in the SDBBHOF photo at left.
Yankton product Matthew Mors is a 6-7 freshman forward at the University of Wisconsin. The Badgers are members of the Big Ten. Mors produced 2,707 career points as a prep with the Bucks.
Mason Miller is from Germantown, Tenn., and is the son of former Mitchell Kernels standout Mike Miller. He is a 6-8 freshman forward at Creighton University. The Bluejays reside in the Big East. Jace Piatkowski, a 6-3 redshirt freshman guard from Omaha, plays for the University of Nebraska Cornhuskers of the Big Ten. His father, Eric, starred as a prep at Rapid City Stevens.
Stanley Umude and Parker Fox, who both excelled at in-state schools last season, are now with new teams. Umude is from San Antonio, Texas, and transferred from the University of South Dakota to the University of Arkansas. He is a 6-6 graduate senior guard for the Razorbacks of the SEC. Fox, a 6-8 junior forward from Mahtomedi, Minn., left Northern State University for the University of Minnesota of the Big Ten.