Newsletter recognizes some eminent defenders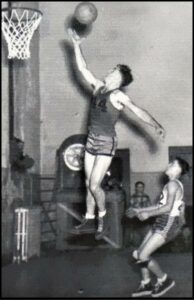 There are players who can alter the course of a game through their sheer will and tenacity. They are the elite defenders. Learn about some of the best defensive stoppers our state has produced in the 2022 Spring Newsletter that has been published by the South Dakota High School Basketball Hall of Fame.
     Another story in the free newsletter relates how a friendship in the U.S. Army influenced the career direction of one of South Dakota's premier 1940s players, Dick Black (shown at right), and steered him towards great things in Michigan.
     Also in the newsletter is a look at a player who starred as a prep and collegian in South Dakota before taking an unconventional route to a long and distinguished coaching career at the college level. And in another of the stories in the newsletter the Hall of Fame asks our readers to share their memories about the most adept and creative high school passers they have ever seen perform in the state.
     The newsletter was mailed April 28 to those on our mailing list. It is the 16th edition. The first biannual newsletter was published in 2014. To be included on the mailing list simply click on Viewpoint and provide us with your name and address.