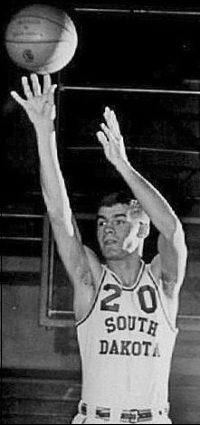 The North Central Conference Holiday Tournament was a popular tradition that for 25 years put some of the country's finest NCAA Division II basketball competition on display before crowds at the Sioux Falls Arena.
     Held annually between Christmas and New Year's Day, the inaugural event was staged Dec. 28-30, 1965. A ticket good for all 12 games cost $5. Fans in attendance saw Sisseton product Jack Theeler (at right in USD photo) become the first of several Most Valuable Players who had prepped at South Dakota high schools.
     Theeler's late-game basket, part of a 26-point performance, lifted South Dakota past South Dakota State 77-75 in the quarterfinals. The 6-foot-4 forward then had 27 points, including four free throws in the final seconds, as the Coyotes beat North Dakota State 68-65 in the semifinals. The losing Bison were coached by Doug Cowman, who had guided Canistota to the Class B state championship in 1958.
     North Dakota, rated No. 4 nationally, stopped USD in the finals 83-64. Phil Jackson was the Sioux star before moving on to NBA fame as a player and coach. But it was Theeler who led the tourney in scoring with 69 points and was MVP.
     Six other former South Dakota preps later earned MVP honors: John Thomas (Alexandria) of SDSU in 1967, Chuck Iverson (Vermillion) of USD in 1972, Ron Wiblemo (Mitchell) of SDSU in 1973, Steve Brown (Hamlin) of SDSU in 1977, Mark Tetzlaff (Hamlin) of SDSU in 1982 and Pat Freidel (Armour) of Augustana in 1988.
     The final tournament was held in 1989. SDSU finished as the leader with five championships. The Jackrabbits won the event in 1968, 1969, 1973, 1977 and 1979. Augustana followed with four titles, winning in 1974, 1980, 1984 and 1987. UND, NDSU and Nebraska-Omaha were next with three championships apiece.