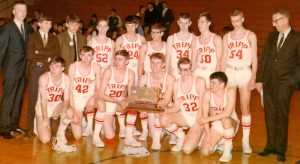 The undefeated Tripp High School Wildcats dominated Class B basketball during the 1967 season. The Wildcats marched past Herreid 72-46 in the championship game of the state tournament that was held at the Sioux Falls Arena.
     Tripp finished the season with an impressive 28-0 overall record. Because of their outstanding accomplishments the Wildcats were recognized by the South Dakota High School Basketball Hall of Fame as its Team of Excellence for 2018.
     The ninth annual Hall of Fame banquet was held March 24 at the Ramkota Hotel Exhibit Hall in Sioux Falls. Inducted were 13 former greats from across the state. During the banquet the 1967 Wildcats were honored.
     Jim Flevares was coach of the Wildcats. From left, front, Mike Freier, Leon Reiner, Dick Prien, Jerry Stoebner, Gene Wilson, Bill Fischer. Back, Assistant Coach Larry Oldewurtel, manager Larry Maag, manager Lon Mayer, Al Schnabel, Dennis Dewald, Allen Schnabel, George Ewing, Steve Brosz, Bill Bittner and Coach Flevares. (Submitted Photo)