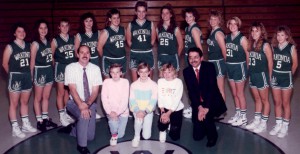 Each year at the South Dakota High School Basketball Hall of Fame induction banquet, an outstanding team from the past is recognized by the Hall of Fame as a Team of Excellence. Honored for 2015 during the sixth annual banquet on March 28 at the Ramkota Hotel in Sioux Falls was 1990 Wakonda.
      The Warriorettes defeated Langford 85-60 in the championship game of the Class B state girls tournament to clinch their third consecutive title. Wakonda finished the season with an undefeated record of 26-0. The Warriorettes extended their winning streak to 76 consecutive games.
      Team members were, from left, Jessica (Johnson) Bosse, Mandy (Richey) Wilson, Casey (Mount) Pollman, Carmen (Girard) Giles, Keeley Pollman, Nicky (Johnsen) Gilbertson, Becky (Flynn) Jensen, Trina (Hansen) Merideth, Kathy (Denzin) Fitzgerald, Beth (Mullinix) Kopecky, Becky (Lyso) Gregoire and Sandy (Lyso) Wolfswickel. In front, from left, Assistant Coach Tim Pflanz; student managers Lana Humpal, Megan Beatty and Miranda Moser; and Coach Ron Flynn.