National Records reveal S.D. presence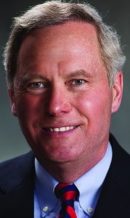 Mitchell native John Gillis (right) is in his 30th year with the National Federation of State High School Associations located in Indianapolis. The graduate of the University of South Dakota serves as associate director of development. He formally was editor of the organization's National High School Sports Record Book which recognizes several South Dakotans.
     According to the basketball section of the 2018 edition of the record book, Jenny Bridge of Hanson is the national record holder in girls career 3-point accuracy. She converted 49.7 percent of her attempts, 266-for-535, before graduating in 2003. Bridge also has the sixth best season 3-point mark of 51.4 percent in 2002 as well as the 10th best of 50.4 percent in 2001.
     Second in both career field goal accuracy and season field goal accuracy is Mandy Koupal of Wagner. She made 758 of 1,097 attempts for 69.1 percent between 1995-98. In the 1998 season she was 223-for-292 for 76.4 percent. She also ranks fourth at 75.3 percent during the 1997 season. Jennifer DeGroot of Ipswich is listed 15th in consecutive free throws. She netted 43 in a row in 1995.
     South Dakota boys in the record book are Kent Hyde of Onida, Tucker Hansen of Sioux Falls O'Gorman and West Central, Dave Lemaster of Howard and Bob Jacobson of Letcher. Hyde ranks fourth in season scoring at 50.4 points per game in 1954. Hansen is 12th in career free throw accuracy at 88.4 percent on 297-for-336 from 1995-98. Lemaster and Jacobson are tied for 10th in single-game rebounds with 47, achieved by Lemaster during 1961 and Jacobson in 1976.
Trackback from your site.