Hall of Fame Game recreates 1912 classic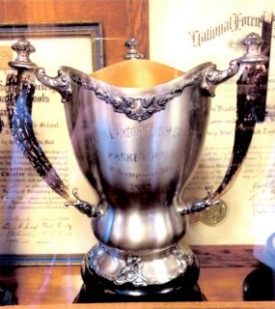 Huron College sponsored the championship trophy that was presented to the winner of the first state tournament in South Dakota basketball history. In the terminology of the day, the trophy was called a Silver Loving Cup. It is pictured at right and has the inscription: 'South Dakota High School Basketball Championship 1912.'
     In commemoration of the South Dakota High School Basketball Hall of Fame's 10th anniversary in 2019, the organization will host a special Hall of Fame Game to be played Jan. 5 at the Sanford Pentagon.
     The Hall of Fame Game will match the two opposing teams, the Redfield/Doland Pheasants and Lake Preston Divers, which met in the inaugural finals 106 years ago at the old Daum Opera House in Huron.
     Redfield, which at the time was called the Redmen, defeated Lake Preston 33-25 to claim that first championship. The tournament was so widely popular that it started an enduring tradition that quickly became a staple in South Dakota sports. (RHS Photo)
Trackback from your site.