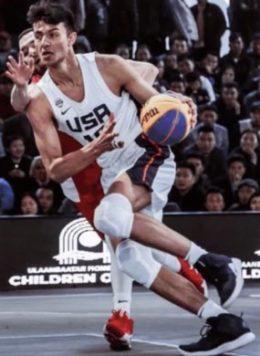 Entering his senior year Dawson Garcia is one of the nation's most heavily recruited basketball players. Last season he averaged 27.5 points and 11 rebounds per game for Prior Lake High School in Savage, Minn.
     A 6-foot-11, 220-pound power forward, Garcia is pictured in the submitted photo at right. His parents are Dave and Stacey Garcia.
     Garcia's mother, as the former Stacey Nelson, helped Milbank win the South Dakota girls Class A state championship in 1987. She then went on to play collegiate basketball at Black Hills State University.
     Garcia's father played basketball and was also a record-setting quarterback in football at Black Hills State. He is a product of Anton, Colo., and is a member of the Yellow Jacket Athletic Hall of Fame.
     In the rankings of the 247Sports recruiting website, Garcia is the No. 32 prospect in the Class of 2020. Last season he led Prior Lake to a 27-4 record while shooting 61 percent from the field, 82 percent on free throws and 44 percent on 3-pointers. He has been offered scholarships by Kansas, North Carolina and Minnesota among other schools.
     Another Top 100 player with area connections, Mason Miller, is rated as the No. 85 prospect in the Class of 2021 by 247Sports. The 6-9 forward will be a junior at Houston High School in Germantown, Tenn. He is the son of former Mitchell, University of Florida and NBA star Mike Miller.