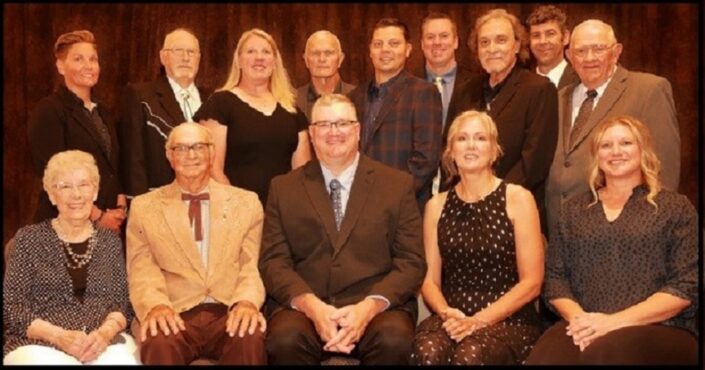 A crowd of more than 400 attended the 12th annual banquet of the South Dakota High School Basketball Hall of Fame on Saturday. Fourteen new members were inducted into the Hall of Fame during the ceremony at the Ramkota Hotel in Sioux Falls. They bring membership to 185. Bios of all Hall of Fame members can be found on this website.
        The Class of 2022 is pictured above at the banquet. From left, front, Eunice Gillam representing the late Delbert Gillam, Clyde Olsen, Tom Rops, Laurie (Bruns) Kruse and Dawn (Hull) Zahn. Back, Sherri Brende, Gene Vognild representing the late Milton Sorenson, Lisa (Kannegieter) Bahe, Gordie Groos, Matt Martin, Jeff Booher, Harley Zephier Jr., John Duffy representing the late Bernard Duffy, and Wayne Thue. (John Simko Photo)
        Plaques recognizing the Class of 2022 will be displayed in the Hall of Fame area of the Sanford Pentagon.
        The Hall of Fame's board of directors is already involved in the important process of evaluating nominees for next year's group of inductees. Those selected for induction in the Class of 2023 will be announced in May. To see a list of the selection criteria, and to download an official nomination form, click on Nomination Form on this website.