Huron '58: Co-Team of Excellence for 2016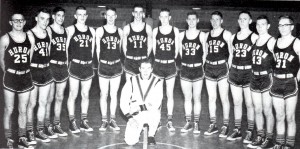 Huron 1958 was selected as one of two great teams from the state's past to be honored as a Team of Excellence by the South Dakota High School Basketball Hall of Fame during the organization's 2016 banquet.
      The Tigers of Coach Carold Heier finished with an undefeated 22-0 record after winning the Class A state championship.
      Team members who also won the Eastern South Dakota  Conference were, from left, Don Tschetter, Dale Schwartz, Dennis Busch, John Ehret, John Fuglsang, Nick Brod, Don Barry, Rex Swett, Al Mason, Tom Martin, Larry Keelin and Bill Madden. Kneeling is student manager Charles Pease.
Trackback from your site.