Newsletter examines greatness of '85 Bobcats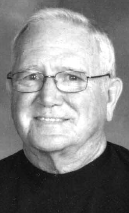 December marks the 30th anniversary of the crowning of one of our all-time greatest state champions. That team, the 1985 Brookings Bobcats, is featured in the 2015 Fall Newsletter published by the South Dakota High School Basketball Hall of Fame.
      Coach Jim Holwerda (right) and his Bobcats brought national attention to the state. USA TODAY  ranked Brookings as the No. 3 girls team in the country. Three of the team's stars – Amy Mickelson, Renae Sallquist and Paula Kenefick – went on to major collegiate programs.
      Read about the undefeated Bobcats in our newsletter that was sent Nov. 23 to the nearly 1,000 people on our mailing list. The newsletter is free and is published in the spring and fall.
      There are many other items of interest in the newsletter. Such as a story about 1953's five state champions. A look at the special bond that existed between a town and a college 30 miles away. Remembering a small school that cherished basketball before its doors closed forever. And a profile of a retired U.S. Air Force Major General who used his South Dakota upbringing as an essential resource in a journey through big-time collegiate basketball and a distinguished military career. We hope you find many things to enjoy in the newsletter.
Trackback from your site.