Hall of Fame completes Phase I of Project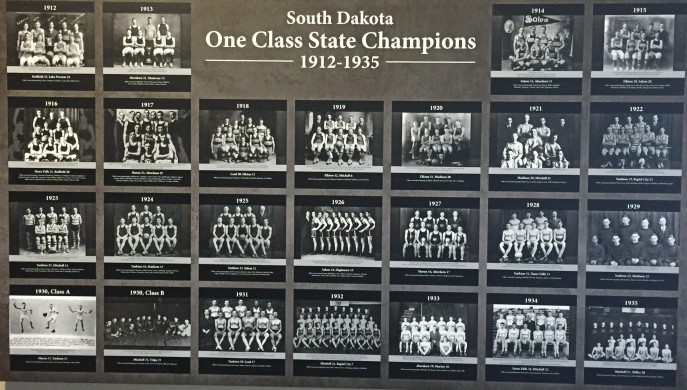 Phase I of an ambitious project by the South Dakota High School Basketball Hall of Fame has been completed. The 40 x 70-inch panel shown above honors state championship teams during the one class era from 1912 through 1935. The panel is on permanent display in a second floor corridor of the Sanford Pentagon.
        Phase II is underway and will focus on the Class B champions from 1936 through 1960. When that panel is completed and exhibited, Phase III will target the Class A champions from that same period.
        There will be seven panels in all. When the entire project is completed all boys and girls championship teams prior to the start of the three class system in 1985 will be included. Also featured will be the Catholic state tournament champions from 1937 through 1964. Plans are being made to also recognize all three class champions.
        The panels will contain 8 x 10-inch pictures of each championship team, rosters, the final score of the championship game, and a list of the other schools that also participated in the tournament.  
Trackback from your site.