Class of 2015 features all-time greats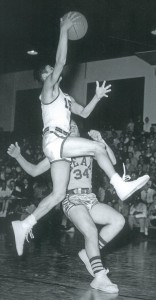 Sixteen of the state's all-time greatest players will be honored during the sixth annual South Dakota High School Basketball Hall of Fame induction banquet at 2 p.m. on March 28 at the Ramkota Hotel in Sioux Falls.
      Included is the late Leonard "Jimmy" Lovley, the state's only representative in the prestigious Helms Foundation Basketball Hall of Fame.
      Lovley was a 1920 graduate of Elkton. He led the Elks to two state championships during South Dakota's one-class era. Lovley became the first All-American in Creighton University history, earning that distinction in both 1923 and 1924. He was inducted into the Helms Foundation Basketball Hall of Fame in 1957.
      The Class of 2015 also features Amy Burnett (Huron '91) of Austin, Texas; the late Lee Colburn (Brookings '69); Katie Dailey (Jefferson '81) of Canistota; Jim Dyer (Willow Lake '60) of Scottsdale, Ariz.; John Eidsness (Canton '66) of Pelican Rapids, Minn.; Mike Freier (Tripp '67) of Bloomington, Minn.; the late Ray Hamann (Yankton '31); Chuck Iverson (Vermillion '69) of Yankton; Jim Mitchell (South Dakota School for the Deaf '54) of Sioux Falls; Marv Rasmussen (Claremont '55) of Langford; Julie Jensen Rozell (Langford '91) of Redfield; John Sivesind (Sioux Falls Roosevelt '96) of Sioux Falls; Jim Tays (Gettysburg '50) of Hot Springs; Carla Allard-Watson (Bennett County '87) of Rapid City; and pictured at left Vince Whipple (Rapid City '56) of Porcupine.
      Recognized as a Team of Excellence will be the 1990 Wakonda girls. The Warriorettes were 26-0.
Trackback from your site.