Sisseton '63: Team of Excellence for 2011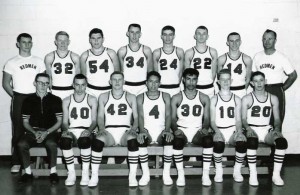 Sisseton Redmen 1963: Back from left, assistant coach Chuck Schwahn,  Bob Brewster, Myron Moen, Simon Schloe, Jack Theeler Jr., Bob Hull, Tom Hruby, Coach Jack Theeler Sr.  Front, manager Jim Anderson, Richard Lucas, Marlowe Samson, Myron Williams, Tony Barker, Doug Brewster and Owen Hillberg.
          The South Dakota High School Basketball Hall of Fame is honoring one of the outstanding teams in state history. The 1963 Sisseton Redmen are being recognized as a Team of Excellence, 48 years after capturing the Class A state championship. Finishing a perfect season with a 25-0 record, it was only the third time in state history that a team had gone undefeated in the "A" ranks.
          The Redmen defeated Gregory 65-37, Sioux Falls Washington 42-33 and defending champion Brookings 58-42 to win the first "A" state tournament played at the Sioux Falls Arena. The five starters — Jack Theeler, Myron Moen, Simon Schloe, Bob Hull and Bob Brewster — all went on to play college basketball.
Trackback from your site.