Hall of Fame salutes '80 Washington Warriors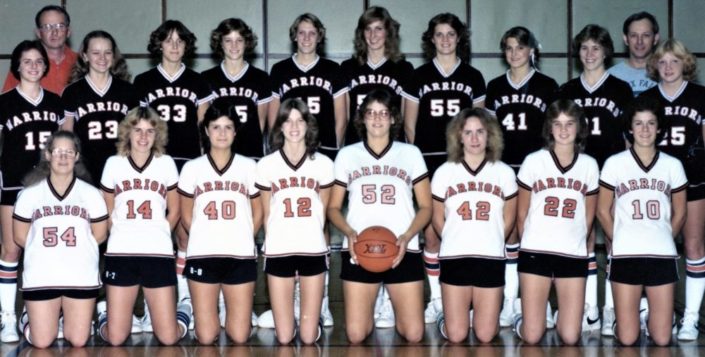 On the night of Nov. 7, 1980, the two teams that would go on to win South Dakota girls basketball titles later that season met in a highly anticipated regular-season game. Sioux Falls Washington won 88-78, snapping Jefferson's record 67-game winning streak. A month later the Warriors earned the Class A championship and Jefferson reigned in Class B.
     Washington was coached by the late Joe Lockwood and finished 23-0 after defeating Canton 52-45 in the championship game of the state tournament. The Warriors were paced by first team all-state players Ann Pancoast and JoElle Byre and by third team selection Lisa Sorenson. Because of their exceptional accomplishments the Warriors are being honored by the South Dakota High School Basketball Hall of Fame as a Team of Excellence.
     The Warriors will be recognized at the 11th annual banquet on March 27, 2021, at the Ramkota Hotel in Sioux Falls.
     Washington's varsity was, standing, from left, Chris Ensberg, Coach Lockwood, Kari Soyland, Pancoast, Sorenson, Byre, Lori Tweedt, Patti Clausen, Karla Modica, Toni Engelson, Assistant Coach Curt Ericson and Lori Burkman. Not pictured are Ann Waag and manager Lisa Hippen. Junior varsity, kneeling, from left, Carol Swenson, Michelle Miller, Cathy Cunningham, Shelly Fauth, Vicky Elliott, Michelle Grotjohn, Ronita Neels and Susan Orr. (Submitted Photo)