Show your pride with a hall of fame ring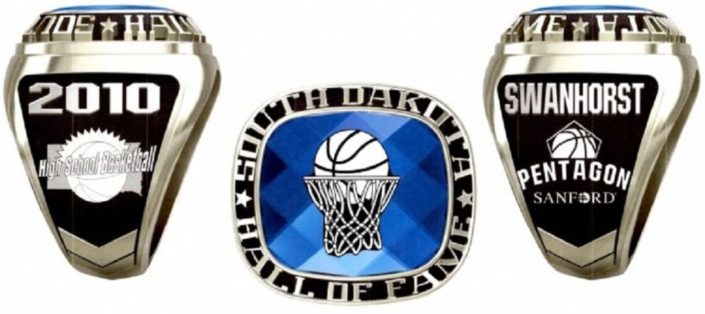 The South Dakota High School Basketball Hall of Fame has teamed with the Jostens Co. to create an elegant ring which commemorates membership in our elite Hall of Fame family. The ring is shown above.
     Features on each ring include the person's last name and the year they were inducted, along with an insignia of the Sanford Pentagon, which serves as the home of the Hall of Fame. A replica of the Hall of Fame logo is crafted on the side of the ring while the top stone includes a basketball symbol surrounded by the words 'South Dakota Hall of Fame'. The person's full name will be engraved on the inside band of the ring.
     Any member of the Hall of Fame will be proud to own and wear such a meaningful reminder of the day they were inducted. Each ring is meticulously constructed of beautiful, enduring white metal and costs $289.54 including tax.
     Hall of Fame members and their families and friends can order a ring by simply mailing the name to be inscribed, the year inducted, choice of birthstone color, and the desired ring size to SDBBHOF, 2210 W. Pentagon Place, Sioux Falls, SD 57107. The purchaser should include his or her name, mailing address, email address if applicable, and telephone number. Payment can be made via check or by using the PayPal option located on the right side of this website.
     Enshrinement in the Hall of Fame is a great honor. This ring will be a reminder and will become a cherished keepsake.