Watertown '59: Team of Excellence for 2019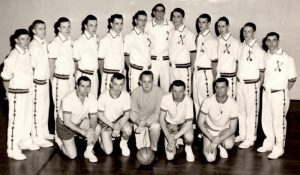 Because of their outstanding achievements the Watertown Arrows of 1959 were honored by the South Dakota High School Basketball Hall of Fame as its Team of Excellence for 2019. The Class A champion Arrows were recognized at the Hall of Fame's 10th annual banquet at the Ramkota Hotel in Sioux Falls.
     Watertown was led by 6-foot-8 center Tom McGrann, who became a three-year starter in the Big Ten Conference at the University of Minnesota. The Arrows were coached by Jim Marking. His assistant was Bud Belk. Both later had successful careers at the collegiate level, Marking at South Dakota State University and Belk at North Dakota State University.
     The Arrows had a 20-2 record. They were, from left, kneeling, Coach Marking, Dave Linngren, Pat McGraw, Bob Michaels, Assistant Coach Belk. Standing, Denny Magner, Norm Hellbusch, Carter Reese, Jerry Alexander, Tom Jensen, John Deblon, McGrann, Jerry Heinze, Doug Kluck, Jerry Miller, Doug Peterson and Roger Fox. (Submitted Photo)
Trackback from your site.