Hall of Fame salutes '59 Watertown Arrows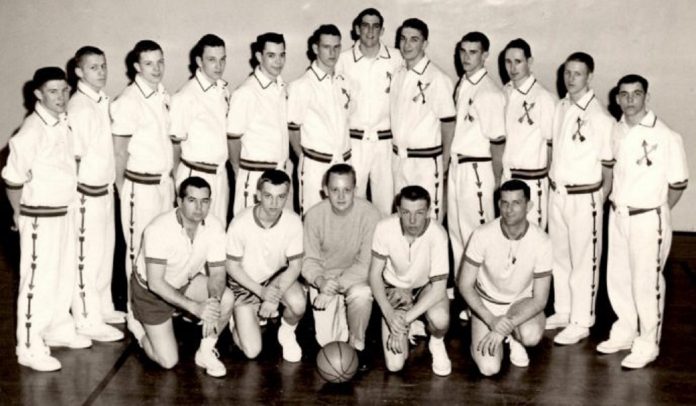 The Watertown High School Arrows claimed the first state basketball championship in school history in 1959. And they did so in impressive fashion, winning their three games in the State Class A Tournament by an average margin of 24 points. All-American center Tom McGrann scored 32 points to set a championship-game record as Watertown defeated the Lead Golddiggers 65-38 in the finals. McGrann went on to star for the University of Minnesota.
     Because of their exceptional accomplishments the Arrows are being honored by the South Dakota High School Basketball Hall of Fame as its Team of Excellence for 2019. The Arrows will be recognized at the Hall of Fame's 10th annual banquet March 23 at the Ramkota Hotel in Sioux Falls. Inducted will be 15 former greats from across the state.
     Watertown was coached by Jim Marking. His assistant was Bud Belk. Both later had successful coaching careers at the collegiate level, Marking at South Dakota State University and Belk at North Dakota State University.
     The Arrows of 1959 finished 20-2. They were, from left, kneeling, Coach Marking, Dave Linngren, Pat McGraw, Bob Michaels, Assistant Coach Belk. Standing, Denny Magner, Norm Hellbusch, Carter Reese, Jerry Alexander, Tom Jensen, John Deblon, McGrann, Jerry Heinze, Doug Kluck, Jerry Miller, Doug Peterson and Roger Fox. (Submitted Photo)
Trackback from your site.