'Cloddy' is about more than just basketball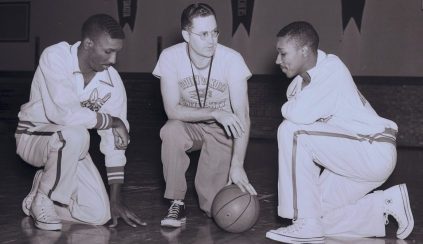 'Cloddy' is a new book that profiles the career of Dwane "Cloddy" Clodfelter. A native of Woonsocket, he coached the University of South Dakota to the NCAA College Division national basketball championship during the 1958 season.
     That team featured standout guards Cliff and Jimmie Daniels, pictured with Clodfelter in the USD photo at right. The book examines the dynamics of the late Clodfelter's recruitment of the Daniels brothers from Brooklyn, N.Y., and the role Clodfelter played in the integration of college basketball.
     Clodfelter guided the Coyotes from 1954-67. His teams won North Central Conference championships in 1957 and 1958. Earlier he coached at six South Dakota high schools – Forestburg, Fedora, Alpena, Centerville, Yankton and Huron.
     The author of 'Cloddy' is Clodfelter's son Kim. The 306-page hardcover book with dust jacket is available through Leone Press in Murfeesboro, Tenn. Go to the website www.kimclodfelter.com for instructions about how to order.
Trackback from your site.