Followers in 33 states receive newsletter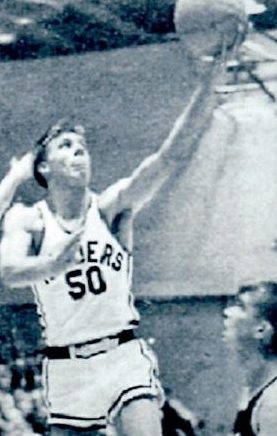 The 2017 Spring Newsletter produced by the South Dakota High School Basketball Hall of Fame was mailed May 10. Copies are delivered to approximately 1,000 people. Our mailing list includes followers who reside in 33 different states.
     Among the topics explored in this issue:
    * How tiny Doland battled the big schools in the memorable one-class state tournament of 1932.
    * A pair of thrilling overtime games, one prep and one collegiate, that made history in 1956 and 1963.
    * The Roosevelt girls' dominant five-peat during 1997-2001 and their time in the national spotlight.
     Readers also will revisit the memorable career of Eric Bundgaard (left), who captured the attention of the state as a freshman prodigy for the Brookings Bobcats in 1964. Bundgaard went on to average 20.8 points per game in his career during four varsity seasons in premier conferences in South Dakota and Minnesota.
     Our newsletters are free and are published twice yearly, in the spring and in the fall. This is our sixth edition. The next issue will be available around Thanksgiving. (Submitted Photo)
Trackback from your site.