Miller, Nuggets tie NBA 3-point record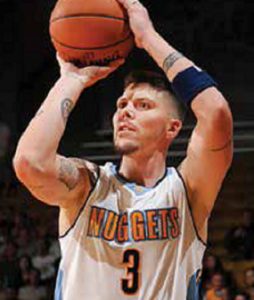 Denver converted 24 3-point goals in a 132-110 victory over the Golden State Warriors on Feb. 13. That performance tied the NBA record for the most 3-pointers in a game originally set by the Houston Rockets.
        Mike Miller went 2-for-2 from long range to help the Nuggets to the record before a sellout crowd of 19,941 at the Pepsi Center in Denver.
        The 6-foot-8 Miller is a former Mitchell High School standout who was chosen Class AA first team all-state  for the Kernels in 1996, 1997 and 1998. He played collegiately at the University of Florida and was inducted into the South Dakota High School Basketball Hall of Fame in 2013.
        Miller is in his 17th year in the NBA and has now moved within 35 points of the 11,000 career-point plateau. He has scored 10,965 points and is a career 41 percent shooter on 3-pointers with 1,588 goals.
        Before joining the Nuggets prior to last season, Miller had spent time with Orlando, Memphis, Minnesota, Washington, Miami and Cleveland.
Trackback from your site.