Salem '26: Co-Team of Excellence for 2016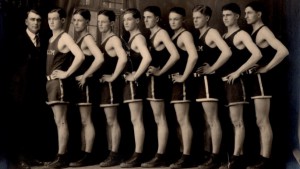 Among the highlights of the South Dakota High School Basketball Hall of Fame's annual banquet is the recognition of one of the state's greatest teams of the past as a Team of Excellence. Two such teams were recognized in 2016.
     One was the Salem Cubs of 1926. Salem had an astounding 40-1 record. The Cubs won the single-class state title and then took third place in the prestigious National Interscholastic Tournament that was held at the end of the season in Chicago.
     The team was comprised of, from left, Coach George Edmonds, Gerald Cheadle, Clarence Carey, George Carey, Vernon Cheadle, Jake Schneider, Vernon Sessler, Melvin Olson, Billy Rohlffs and Lemmie Herting.
Trackback from your site.