Spring newsletter features legendary coach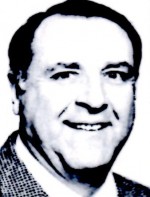 Parker High School's basketball program was a model of consistency under the direction of Gayle Hoover (right) for more than three decades. The Pheasants won 577 games and averaged 17 victories per season. Hoover was a rarity in that he spent his entire South Dakota coaching career at the same school. He guided the Pheasants for 34 years.
      The 2015 Spring Newsletter of the South Dakota High School Basketball Hall of Fame examines Hoover's career and legacy through the eyes of five of his former players.
       Friends of the Hall of Fame receive the newsletter at their home. It was mailed June 3. The newsletter is free and published twice yearly. If you do not receive a copy and want to be added to our mailing list, email your name and home address (not your email address) to dlwagner@tnics.com. Or phone executive director Dave Wagner at (605) 467-3010.
      The newsletter also features several other noteworthy stories. Among them are a look at Yankton's dominance of the one-class era; a 1925 team that did not win a title but may have been the state's best; Wakonda's 101-game winning streak; and a man who learned about basketball in South Dakota and then became one of California's greatest coaches.
      We think the newsletter delves into topics that are of interest to all who love the game. We hope that you agree.
Trackback from your site.