NBA veteran Miller headlines Inductees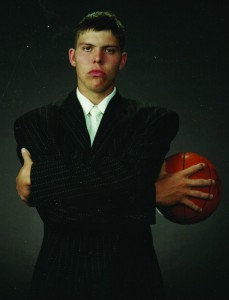 A reigning NBA champion, Miami Heat veteran Mike Miller, is among 16 stalwarts who will be inducted into the South Dakota High School Basketball Hall of Fame during a banquet in Madison on March 23.
          Miller helped Mitchell High School to two Class AA state championships before graduating in 1998. He then led the University of Florida to the NCAA Final Four. Miller was chosen by Orlando as the fifth overall pick in the 2000 NBA draft. The 6-foot-8 guard/forward, of Pompano Beach, Fla., is now in his 12th season. He made seven 3-pointers and scored 23 points in the deciding game as Miami defeated Oklahoma City in last season's NBA Finals.
          Those to be enshrined distinguished themselves through exemplary playing careers. They expand membership to 65 in the Hall of Fame, whose purpose is to record and preserve the basketball history of South Dakota.
Hall of Fame Inductees for 2013
          Mike Miller of Pompano Beach, Fla. (Mitchell 1996); Scott Bosanko of Farmington, N.M. (Aberdeen Central 1977); Amy Mickelson of Sioux Falls (Brookings 1986); Chris Divich of San Antonio, Texas (Doland 1952); Carol (Freeman) Galbraith of Winner (Canova 1979); Clyde Hagen of Sioux Falls (Webster 1966); Garney Henley of Huron (Hayti 1955); Kent Hyde of Little Rock, Ark. (Onida 1954); Gerald Lund of Buhl, Idaho (Belle Fourche 1957); Chad Nelson of Edgartown, Mass. (Yankton 1974); Renee Ruesink of Sioux Falls (Castlewood 1984); Jim Schlekeway of Mobridge (Britton 1964); Wayne Stone of Mitchell (Mitchell 1941); Wendy Swanhorst of Denver, Colo. (Cresbard 1978); Marty Waukazoo of San Leandro, Calif. (Rapid City 1967); Chuck Welke Jr. of Thompson, N.D. (Warner 1994). Team of Excellence: 1964 Howard Tigers.
Trackback from your site.