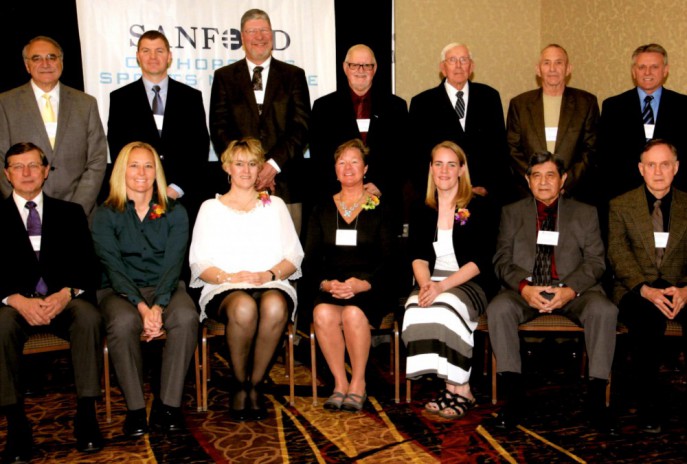 Membership in the South Dakota High School Basketball Hall of Fame expanded to 98 with the induction of 16 former greats in the Class of 2015. The sixth annual banquet was held March 28 at the Ramkota Hotel in Sioux Falls.
        The Hall of Fame is proud to welcome, from left, in back, Jim Dyer (Willow Lake '60), John Sivesind (Sioux Falls Roosevelt '96), Chuck Iverson (Vermillion '69), Jim Mitchell (South Dakota School for the Deaf '54), Jim Tays (Gettysburg '50), Marv Rasmussen (Claremont '55) and Lorre Colburn representing the late Lee Colburn (Brookings '69).
        In front, John Eidsness (Canton '66), Amy Burnett (Huron '91), Carla Allard-Watson (Bennett County '87), Katie Dailey (Jefferson '81), Julie (Jensen) Rozell (Langford '91), Vince Whipple (Rapid City '56) and Mike Freier (Tripp '67).
        Completing the Class of 2015 are the late Ray Hamann (Yankton '31) and the late Jimmy Lovley (Elkton '20). To read bios of  this year's honorees, as well as of all other Hall of Fame members, please click on Inductees on this website.