Iverson, Renowned player and coach, dies at 90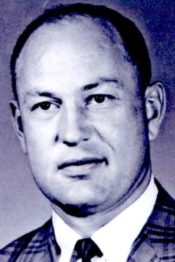 Jim Iverson, among the most celebrated figures in South Dakota basketball history, died Oct. 26 in Fort Wayne, Ind. He was 90. Iverson was a star player at Platte High School and Kansas State, and a championship coach at South Dakota State. He was a charter member of the South Dakota High School Basketball Hall of Fame.
After helping Platte to four Class B state tournaments before graduating in 1948, Iverson was a 5-foot-11 guard at Kansas State when the Wildcats lost to Kentucky 68-58 in the national championship game in 1951. The following season, as a senior, he averaged 12.9 points per game and captained Kansas State to a 19-5 record.
Iverson was chosen by the Boston Celtics in the second round of the 1952 NBA Draft. But after fulfilling his military obligation he entered coaching. SDSU finished 22-5 and won the NCAA College Division championship under Iverson in 1963. His career record as coach of the Jackrabbits was 142-65. Iverson guided SDSU to championships in the North Central Conference during the 1957, 1959, 1960, 1961 and 1963 seasons.
Iverson later had a career in banking. He was a longtime resident of Sioux Falls before moving to Fort Wayne.